Blue Ridge Gap GA to Deep Gap NC
Day 11 – 04 Apr 2015 (10.1 miles – 85.4 miles)
The day started early for me.  I had to get up, buy gas and drive the 45 minutes North to meet Bling at his house at 7AM.  We picked up breakfast and headed North to our parking spot at Blue Ridge Gap.
It was windy at the gap and I was really glad I had worn my merino wool long underwear! Bling piddled around as normal and we started walking at 9:20AM.
We made good time and were at the state line by 11:15.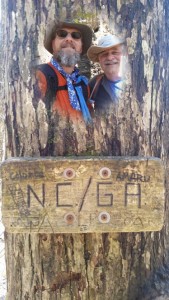 We had played leap frog with several thru hikers that were ecstatic to finally be in be out of GA.  We made fairly good time and stopped at Muskrat Creek Shelter (or SHEETER if you read the sign there) for lunch at around 1:30PM.  We became trail angels by making coffee for the guys at the shelter, and passed out fruit & left over coffee that we did make.
We had some awesome views:
We met up with Jonathon, our ride back to our car, about 3/4 of a mile from Deep Gap with him hiking in to meet us.
Continues… (GA-ME — 3.90% of trail completed)