NOC to Stecoah Gap
We started by meeting Thursday night at Yellow Creek Gap Rd crossing to leave my van with plans to end our hike here Sunday afternoon.  Once we arrived at the NOC we found our room turned in for the night with plans to eat a hearty breakfast before hitting the trail.
We ate at River's End Restaurant and were on the trail by 9:30.  Mark scored 3 tortillas for the trail (they must have weighed 1 pound, these things were HUGE).
We got a good start, with making 2 miles in the first hour.  Our forward progress slowed after that.  We made it to Grassy Gap by noon and took a short break with plans to stop and eat lunch at the stream crossing.  We made it to the crossing at 1pm and made our selves at home.  I had tuna wrap and Mark had PB&J on tortilla.  While eating lunch Lucky Pup, an 18 year old kid from Ireland, joined us.  He was heading past Cheoah Bald for Locust Cove Gap (2.1 miles past Cheoah Bald).  We said goodbye as he headed on and we packed up.
After lunch we started back up the mountain at 1:30.  We stopped for the view at the The Jump-Up with great views on Nantahala Gorge.  After a few minutes and a few pictures we got back on the trail.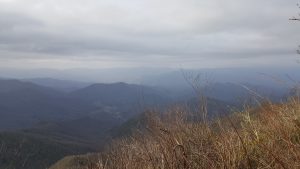 As we approached Swim Bald we met Skipper and hiked along with him into Sassafras Gap and down to the shelter.  We relaxed for a while and chatted with the hikers there before refilling our water.  While filtering my Swayer Mini filter bag busted.  Thankfully Mark had an extra dirty bag.
Once again we headed up the mountain towards our goal of camping on top of Cheoah Bald.  It was only 1.2 miles but took us an hour to complete.  That last mile was a killer.  Total for the day was 8.1 miles and a climb of 3300 feet.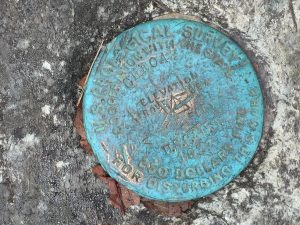 We set up camp in a small clearing to the right of the trail, then cooked at an overlook viewing North.  After dinner we relaxed till about 9:30 then headed to our tents, Mark's first night in his Tarptent DW Moment.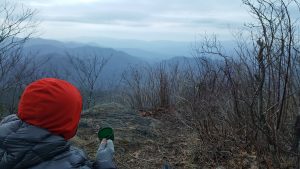 Scott made it in around 1am to join us for the rest of the trip.
We awoke to "rain drops".  We were in the clouds and the wind was causing the moisture gathering on the trees to rain down on us.  Scott was set up farther over the ridge and it wasn't raining on him, so we joined him for breakfast and coffee before getting back on the trail.  I was feeling off, but nothing to do but walk.  We stopped for pictures at the junction with the Bartram Trail and headed on.  At Locust Cove Gap we stopped to relax and replenish our water supply (Cheoah Bald is a dry camp).  Upon leaving we set our sights 2.6 miles down the trail for mile 150.
I was hurting as we move down the trail we mile 150 in my sights.  We finally got there I dropped on the side of the trail (not the best place to celebrate 150 miles) and started rehydrating my chicken and pickles for a wrap.  Once water in, we toasted 150 miles completed with Tequila I had brought for the occasion.  After the toast, we ate the continued down to Stecoah Gap.  Scott felt my head and said I was running hot.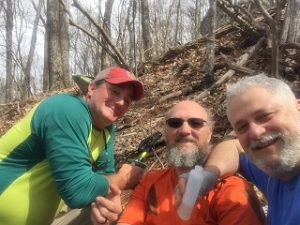 I was hurting pretty bad as we headed down the mountain, and we decided to call it at the Gap and get a shuttle.  The was trail magic at the Gap and the angels were great.  After relaxing we talked one more time about trying to make it to the shelter ,but Jacobs ladder scared me with how I felt, so Scott called for a shuttle.  It was the fastest service ever.  When Scott started talking to the guy, he told Scott to turn around, he was standing right behind him.
We shuttled to my van and then drove to the NOC for a hot meal at River's End Restaurant.  After food, we said our goodbyes with plans to come back and finish the hike to Fontana Dam in the near future.
At home I cleaned up and then checked — temperature of 100.2 🙁  No wonder I didn't feel good!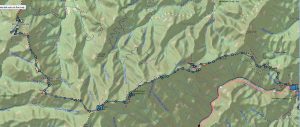 Continues… (GA-ME — 6.84% of trail completed)