Wayah Bald to the NOC
Friday afternoon found Mark & I converging on the NOC.  We had dinner there and then left my van parked there and drove over to Wayah Bald.  Once there we headed down to Wayah Bald Shelter for the night.  When we arrived there were 3 ladies in camp.  I stayed in the shelter while Mark slept in his hammock (with mods he help from Lee with).
Saturday morning we started out with a destination of Wesser Bald Shelter 10.6 miles away.  We hike past some great views and played leap frog with a couple of young ladies from the University of Florida.  We stopped for lunch just passed the Cold Spring Shelter and we were feeling really good at the time.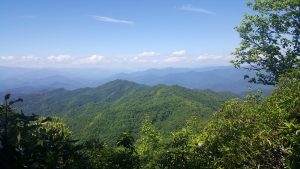 Along the way we did determine the answer to the age old question — Does a bear shit in the woods?  The answer is no, he shits on the trail.  We passed 5 piles of bear scat on the trail.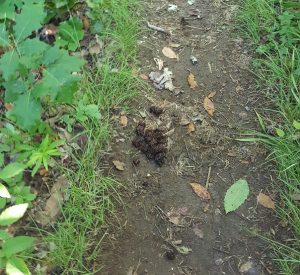 We eventually made it to Wesser Bald Shelter early afternoon (3ish) and feeling really good about how we felt talked ourselves into going on to A. Rufus Morgan Shelter for the night — It's all downhill from here.  Here we said our final goodbye to the UF girls and started the downhill trek to A. Rufus Morgan Shelter.  FAMOUS last words… It's all downhill from here… It was a long HARD downhill slog.  We planned to get water a a spring that was supposed to be reliable, note SUPPOSED to be.  We did make it to the Shelter (15.5 miles), damn near killed me as we were low on water.  Thankfully there was a running stream at the shelter.  We filled our water, cooked and hung bear bag, then both of us crashed in the shelter for the night.
Sunday morning we finished hike into the NOC (1 mile).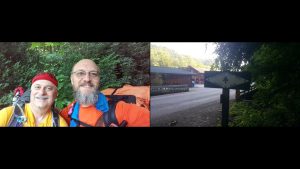 We hiked to the van and drove around to Mark's truck.
It was a great trip, but not sure it's all downhill will ever mean the same thing to me again!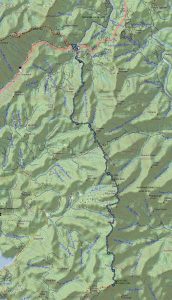 Continues… (GA-ME — 6.28% of trail completed)