Stecoah Gap to Fontana Dam
My nephew TJ joined us on this trip! Last time I was backpacking with TJ was at Philmont.
We headed up to meet Mark at Fontana Dam to leave the van.  Once we were loaded up we drove to Stecoah Gap to start our adventure.
We hiked the 2.4 miles to the shelter in the rain and wind.  Not the funnest hike I've ever done, but as my buddy Scott (K Hobbs) says: "Embrace the suck!".  That said he was running late and opted to sleep in his truck Friday night and hike in Saturday morning.  Jacob's Ladder climb was "fun", not sure why they waited till the very top to put in 2 short switchbacks…
Friday night we stayed at Brown Fork Gap Shelter.
Saturday morning we waited at the shelter for Scott (and Blitz his 4 month old Mastiff) to show up which was about 8:30AM.  We hit the trail a little after 9AM and had a very pleasant hike with cool temps and slight breeze.  We uneventfully made it to Cable Gap Shelter by a little after 1PM and were the first group to show up.  Since they were predicting more rain Mark (Bling), TJ (The Nephew), and I decided to sleep in the shelter.  The next people to show up were a couple hiking with another lady and her 5 year old.  Both women and the girl joined us in the shelter and the husband (like Scott) set up tents with their dogs.
Saturday night we stayed at Cable Gap Shelter.
Sunday we woke to a fabulous day.  Could not ask for a better day to be on the trail.  We got on the trail shortly after 9 and made it to the my van by 2.  TJ decided to wait at the last road crossing while Mark, Scott, & I headed to the van.
Great times…great people.  Here is a recap of the trip:
Map of our hike.  Black is day 1 (Friday afternoon in the rain), Blue is day 2, and red is day 3.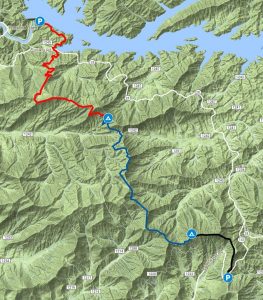 Continues… (GA-ME — 7.61% of trail completed)