02-05 Apr 2016 Deep Gap to Wayah Bald
Friday night found us (Mark [Bling], Lee [Sherpa Master], and me [Flintstone]) meeting at Wayah Bald Trailhead parking lot and leaving my van for us to exit with. We all jumped in Mark's truck and travelled over to Deep Gap.  We arrived in plenty of time to set up camp before the sun went down and sit around the campfire with some thru hikers.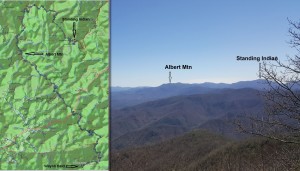 Deep Gap -> Carter's Gap Shelter (8.5 miles)
The day started with breaking down camp and trail magic breakfast of pancakes and sausage 🙂  Once fortified we started up Standing Indian Mountain (our first 5000 footer).  The trail up was pleasant and not too steep.  Then a long downhill followed by a short climb and a drop into Carter's Gap.
We met a great couple and leap frogged them all day Clay (ziplock) & Melissa (pops a squat). We camped together at Carter's Gap.
They were predicting 24° and 20-30MPH winds with gusts to 65MPH.  Needless to say it was cold.  Not sure anyone stayed up much past sunset as the temp dropped fast after the sun went down.  One tree did come down across the trail just south of camp during the night, but there were no injuries.
Carter's Gap Shelter to Rock Gap Shelter (12.1 miles)
This was a long day. We continued to hike with Clay & Melissa. They turned out to be a really fun couple to hang out with.
The highlight of the day was standing on top of Albert Mtn and toasting finishing 100 miles on the AT with everyone – I had carried a 4 oz flask of 12 year old Scotch Whisky for the occasion. We got trail magic Clementines at the top. The climb up was steep, but the view was definitely worth it.
From the top, we hiked 6 miles, mostly down hill to the Shelter stopping for water near the new Long Branch Shelter.
Rock Gap Shelter to Siler Bald Shelter (8.0 miles)
The walk from Rock Gap down into Winding Stair was odd, the trek was sloped and managed to make you walk odd with a lot of force on the outside of you right foot.  This caused Lee to hurt his knee and forced him to drop out at Winding Stair.  He got a shuttle from Winding Stair to my Van so he could go into Franklin and stay there for the night.
The shuttle from Franklin dropped off several hikers that were getting ready for the return to the trail.  There was a new hiker dropped off wearing a daypack and carrying his food in grocery bags.
As we headed up the trail we ran into the new hiker multiple times and hung the name "Snack pack" on him as 90% of his food consisted of snacks.  We eventually convinced him put his food into his pack.  The last time we crossed paths I called him snack pack and he told us he already had a trail name — Clint Eastwood (this all gave us unlimited pleasure chuckling at that).
The hike up to Siler Bald was uneventful, but seemed to be long and uphill.
The night was chilly but not as no where as cold as Carter's Gap.
Siler Bald Shelter to Wayah Bald (5.9 miles)
We got up packed, ate breakfast and got onto the trail.  When we got to Wayah Gap Rd crossing Lee was there with trail magic for everyone.
We had made plans to slackpack up Wayah Bald by dropping our packs in the van and carrying one pack with just water to the top.  The hike up was uneventful except passing snack pack sleeping on the side of the trail.
When we arrived at the Wayah Bald tower, there was Lee with the packs for Ziplock and Squats a lot along with more trail magic, including Subway Sandwiches for all of us!  That was the best Subway sandwich I can remember ever eating 🙂
The views from atop where incredible!
Continues… (GA-ME — 5.5% of trail completed)