A walk in the clouds
Day 9 – 20 Dec 2014 (9.3 miles)
We planned to meet at Dick's Creek Gap at 9 AM, leave my car and drive around to the parking for Steeltrap Gap.  Meeting went off without a hitch, and we started around to the parking stop with a short stop at the Top of Georgia Hiker Hostel.
We arrived at the lower parking spot and start gearing up… We'll be ready and headed ot the trail at 10 AM.  This is when it happens.  Bling doesn't have the insoles for his boots 🙁  Game ender… I suggest we run into Hiawassee to a drug store to get some insoles.  So we pack back into Bling's car and head to town.  Rite Aid had what we needed, so crisis averted.  Back to parking and ready to hit the trail at 11:15 AM(late start).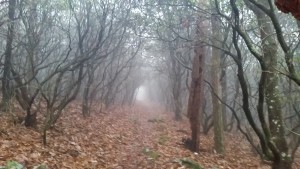 As we climbed the mountain to the AT, wewalked into the clouds.  We spent the rest of the day in 50-100′ visibility.  Limited the views, made for an erry hike at times, but a great day.  We stopped at Addis Gap to eat lunch.  I brought the Windboiler and we made coffee.  Boils really fast.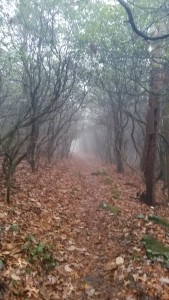 As we were coming into Moreland Gap the trail was getting to dark to see 🙁  I was stupid and didn't bring a light 🙁  Mark to the rescue, he brought 2, YAY. Oppssss… Only one worked.  BUT, I had my phone with me and used the LED flashlight mode of it to walk the last 1.3 miles of the trail.  Used 3% of the battery, so not bad at all.  Lesson learned, ALWAYS carry your headlamp.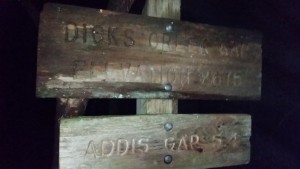 We got back to my car around 7 PM, packed up, called our wives to let them know we were safely off the trail and would be stopping for dinner on the way home.
It was a great day even with the limited visibility.
Continues… (GA-ME — 3.18% of trail completed)